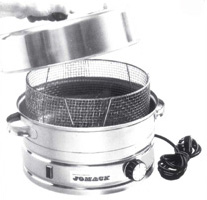 The Jomack Stainless Steel Food Steamer is the perfect product for use in Hotels, Restaurants, Canteens, Take-Away Food Shops, etc. It steams dim sims, hot dogs, chickens, vegetables and most other foods requiring steaming to perfection. Not surprisingly, made from high quality polished stainless steel, it includes a stainless steel wire mesh basket, which is a very hygienic and easy to clean product.
Features:
Electric Overheat protection.
Simmerstat control.
Indicator light.
Electrical Rating of 2400Watt / 240Volt.
300mm Diameter x 240mm high.
It is also available non-electric for gas or hotplate use.
Part No.

Description

Furthur Info

FS1

Food Steamer 2400W/240V & Basket

FS2

Food Steamer Non-Electric & Basket

FS3

Food Steamer Extension

FS4

Food Steamer Basket

FSL

Food Steamer Lid