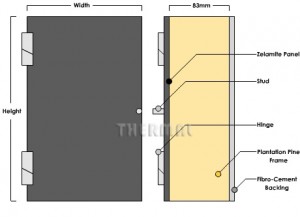 WhiteAnt Meter Frames are a great alternative to metal meter boxes. Hand crafted and Australian made!
Some of the great features of the WhiteAnt board are:
Wooden frames mean no earthing required
The panels are pre-marked for service fuses & neutral link
Fully insulated sides and back
Removable front hinged panel
The WhiteAnt boards are made from Ty-Panel "Type X" switch panel, fire-retardent "FibroCement" back panel, Australian plantation pine frame and Netalite 7 insulation.
The following three sizes are available off the shelf. Custom frames & panels can be ordered.
Model

Dimensions

Description

WA4

374mm H x
204mm W x
75mm D

16mm cable max.
1 x SP meter, 1 x Electronic meter or 1 x multiphase meter
1 x service fuse
1 x neutral bar/link

WA5

400mm H x
380mm W x
83mm D

16mm cable max.
1 x multiphase meter
1 x timeclock
3 x service fuses
1 x neutral bar/link

WA6

590mm H x
400mm W x
83mm D
(With WA6/K it becomes 150mm deep)

16mm cable max. (35mm cable max. with WA6/K)
up to 2 multiphase meters
up to 3 SP meters
1 time clock
Or a combination of above
4 x service fuses
2 neutral bar/links

WA7/4C

610mm H x
370mm W x
6mm D

Replacement panel for metal enclosures
Easy Installation
Use with common meters and Time Clocks