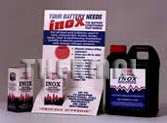 For use in cars, motorcycles, boats, trucks, buses, aviation, farm & earth moving equipment, industrial, solar and stationary batteries.
Dissolves battery killing sulphation
Better & faster cold morning starts
Constant brighter lights
Rapid power recovery & recharge
Holds charge longer between use
Increases battery efficiency up to 18%
Up to 2 – 3 times longer use
NB. Inox battery conditioner is not a cure all , it will have little or no effect on mechanically unsound batteries.
Inox Battery Conditioner is available in 4 sizes
Part No

Size

MSDS

Reference Link

MX2-92

92ml Bottle

MX2-1

1 Litre Bottle

MX2-5

5 Litre Drum

MX2-20

20 Litre Drum