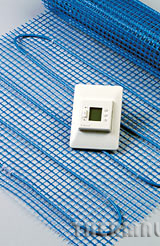 The ELEKTRA Heating Mat features a twin-heating cable attached to a fibreglass mat with a single-sided power supply and is thermostat controlled.
ELEKTRA Heating Mats may be used under any type of floor suitable for heating; ie. under any floor which radiates heat easily, such as floor tiles, slate, low pile carpet or some wooden floor panels. They are fixed directly to a prepared floor in a screed of self-levelling compound or a cement-based screed.
At 0.5m wide and available in lengths from 2m to 16m they can be easily shaped to suit the floor layout. No special tools are required.
Heating mats available:
| Part No. | Watts | Mat Size |
| --- | --- | --- |
| TXMD.5/2 | 160w | 0.5 x 2.0m |
| TXMD.5/3 | 240w | 0.5 x 3.0m |
| TXMD.5/4 | 320w | 0.5 x 4.0m |
| TXMD.5/5 | 400w | 0.5 x 5.0m |
| TXMD.5/6 | 480w | 0.5 x 6.0m |
| TXMD.5/7 | 560w | 0.5 x 7.0m |
| TXMD.5/8 | 640w | 0.5 x 8.0m |
| TXMD.5/9 | 720w | 0.5 x 9.0m |
| TXMD.5/10 | 800w | 0.5 x 10.0m |
| TXMD.5/12 | 960w | 0.5 x 12.0m |
| TXMD.5/14 | 1120w | 0.5 x 14.0m |
| TXMD.5/16 | 1280w | 0.5 x 16.0m |
Heating Mat Kits

Part No.

Watts

Mat Size

Reference Link

KITXMD.5/2

160w

0.5 x 2.0m

KITXMD.5/3

240w

0.5 x 3.0m

KITXMD.5/4

320w

0.5 x 4.0m

KITXMD.5/5

400w

0.5 x 5.0m

KITXMD.5/6

480w

0.5 x 6.0m

KITXMD.5/7

560w

0.5 x 7.0m

KITXMD.5/8

640w

0.5 x 8.0m

KITXMD.5/9

720w

0.5 x 9.0m