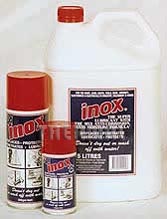 The only lubricant in the world with the special mx3 anti-corrosion, anti-moisture formula for the twenty-first century (MX3FG is also Food Grade Approved).
Displaces – penetrates
Lubricates – protects
Inox contains no silicon, acid, kerosene or dieseline. It will not harm metal points or surfaces, plastics, paints, enamels, fibreglass, formica or neoprene seals. Inox doesn't dry out, gum up, become sticky or wash off with water! Inox is non- conductive, non-static, non-toxic, non-corrosive and non-staining.
Inox-mx3 is available in 6 sizes:
Part No.

Size

MSDS

Reference Link

MX3-FG300

300g Aerosol

MX3FG-5

5 Ltr Drum (with applicator)

MX3FG-20

20 Ltr Drum (with applicator)

MX3FG-205

205 Ltr Drum (with 6 applicators)

MX3FG-20

20 Ltr Drum (with applicator)

MX3FG-205

205 Ltr Drum (with 6 applicators)

MX3-100

100g Aerosol

MX3-125

125mm Pump Pack (unpressurized)

MX3-5

5 Ltr Drum (with applicator)

MX3-20

20 Ltr Drum (with applicator)

MX3-205

205 Ltr Drum (with 6 applicators)